In late October, IHG rolled out their latest promotion on purchased points, which is in line with the best promotions they offer. This is a reminder that this promotion expires tomorrow, so this is your last chance to take advantage of it, if interested.
Buy IHG Points For 0.5 Cents Each
Through Saturday, November 16, 2019, IHG Rewards Club is offering a 100% bonus when you buy at least 7,000 points in one transaction.
This is the offer I see on my account and all accounts that I manage, though you do need to log into your account to see the offer, so it's possible some members will be targeted for different promotions.
If you maxed out the promotion and purchased 100,000 points, you'd end up paying $1,000 and would get a total of 200,000 IHG Rewards Club points. That's 0.5 cents per point.
A 100% bonus is as good as it gets when buying IHG points, so this promotion is definitely worth considering if that's what you're seeing on your account.
Note that while the IHG Rewards Cub Premier Credit Card offers a 20% discount on purchased points, that benefit only applies when buying points at the normal cost, and wouldn't be applicable here.
However, one huge benefit of the card is that it offers a fourth night free on award redemptions, so you can book four nights and only pay for three. So if you are staying somewhere for four nights, think of it as a further 25% discount.
Which Credit Card Should You Buy IHG Points With?
IHG Rewards Club points purchases are processed by points.com, meaning they don't count as a hotel purchase for the purposes of credit card spending.
Therefore I'd recommend using a card on which you're trying to reach minimum spend, or otherwise, a credit card that maximizes your return on everyday spend, like the Chase Freedom Unlimited® (review) or Citi® Double Cash Card (review).
See this post for more on which credit cards are best for buying points.
Cards for everyday purchases



Is It Worth Buying IHG Points With 100% Bonus?
Over the years IHG Rewards Club has devalued their redemption rates quite a few times, though for people buying points, it hasn't necessarily been bad news. IHG has lowered the cost to purchase points, with many promotions they've increased the cap on how many points you can buy, and the IHG Premier Card has a great fourth night free benefit.
For example, at a rate of 0.5 cents per point, you could acquire 210,000 IHG Rewards Club points for $1,050 (the maximum you can buy is 200,000 with the bonus, but let's apply the same value to the other 10,000 points).
With a few exceptions, IHG's most expensive hotels typically go for 70,000 points per night, so if you had the IHG Premier Card, you could get four nights at that rate. That's like paying just $262.50 per night including taxes and fees at some of IHG's best properties.
This represents significant savings over what many of these hotels usually charge.
I wouldn't speculatively buy points, but there's value to be had under the right circumstances. Sometimes this can be a deal on IHG's highest-end hotels, and other times there's value to be had with their mid-range properties as well.
IHG also has their excellent PointBreaks promotion, where you can redeem 5,000-15,000 points per night at select hotels. That's like paying $25-75 per night at a hotel, which can be a great deal (assuming you're eligible for a 100% bonus).
An Example Of When I Bought Points
Earlier this year I actually purchased IHG points with a 75% bonus, which is worse than the current 100% bonus we're seeing.
I was going to Beirut, and one of the best points hotels in the city is the InterContinental Phoenicia Beirut. It's generally regarded as one of the top five hotels in the city, and several people recommended I stay here.
It's actually a very good use of points. For my three-night stay the absolute lowest cost was $868 including taxes and fees.
Though in reality that's the pre-paid rate, while the flexible rate would have been over $1,000 for the three nights (and that's likely what I would have otherwise booked).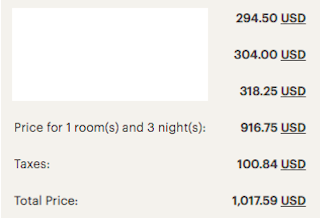 Meanwhile, this hotel cost just 30,000 IHG Rewards Club points per night.
I didn't have a lot of IHG Rewards Club points, and I also never speculatively bought them in the past (which I was kicking myself for, since I wish I had taken advantage of a 100% bonus).
So with the 75% bonus I could buy 91,000 points (more than enough for three nights) for $510, which is about half off the flexible rate.
Sometimes I think it's useful to share circumstances where I buy points, and explain why. I don't promote deals on purchased points because I think everyone should always buy them. Rather I think it's all about buying points with the right use in mind.
IHG Buy Points Summary
Buying IHG points with a 100% bonus can represent a great value. I wouldn't buy points completely speculatively, but I do think there's value in having a "reserve" of IHG points, given their global footprint.
You can get even more value out of the promotion in conjunction with the IHG Premier Card, which can get you a fourth night for free on award redemptions.
If you've been considering this promotion but haven't yet made a purchase, this is your last chance to do so.
Do you plan on buying IHG points with a 100% bonus?
The post Buy IHG Rewards Club Points For 0.5 Cents Each (Last Chance) appeared first on One Mile at a Time
Source: local news